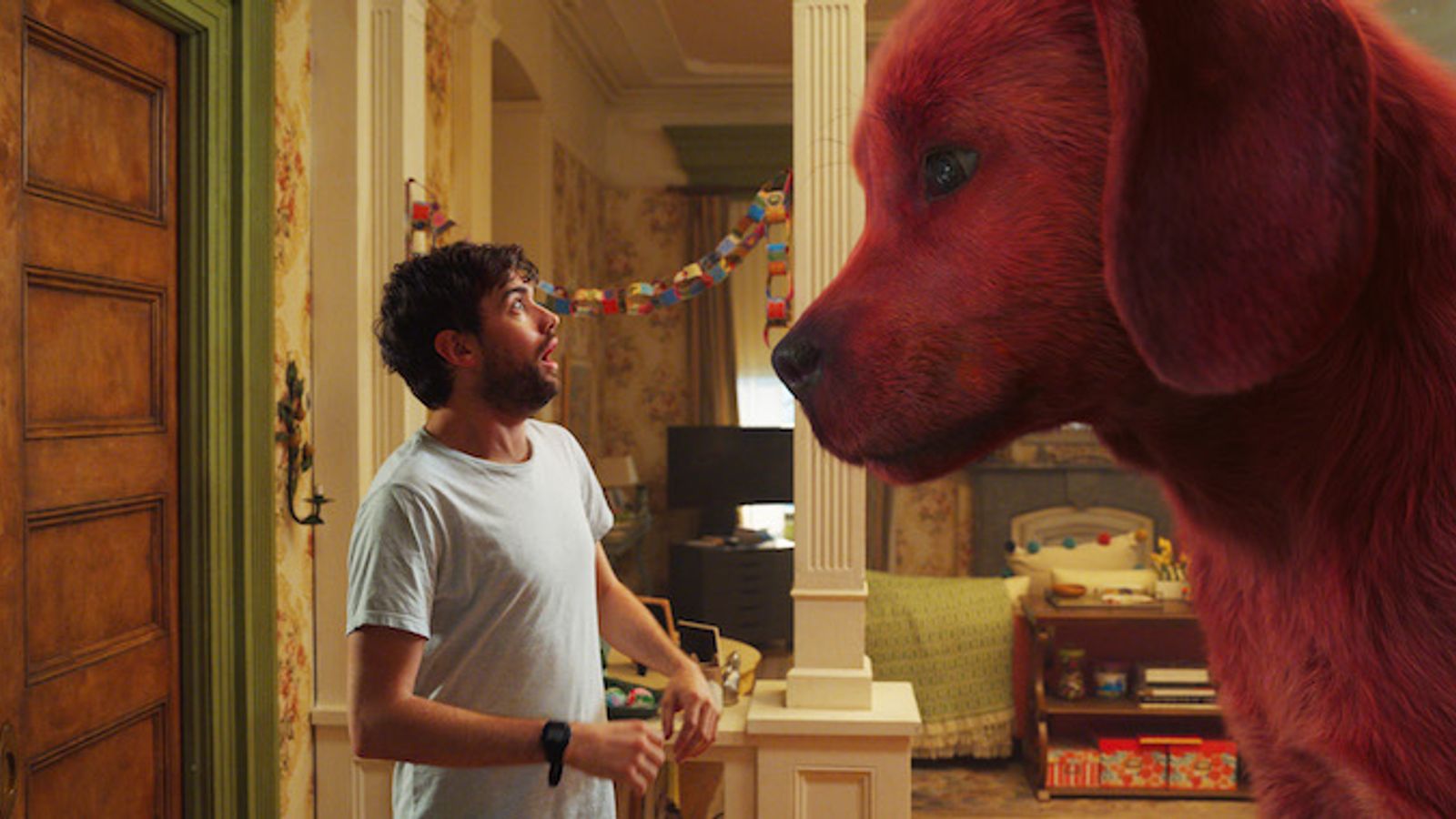 Backstage With… Jack Whitehall Explains Why His Role As 'Immature Man-Child' In Clifford The Big Red Dog Was A 'Refreshing Change Of Rhythm' | Ents & Arts News
In the UK he is probably best known for his comedy, but in Hollywood Jack Whitehall is establishing himself as a family movie star.
Earlier this year, he brought light relief from Disney's Jungle Cruise as the brother of Emily Blunt's main character, and now he's playing the role of a young girl's immature uncle in Clifford The Big Red Dog.
The film adaptation sees his character getting more than he expected after being asked to care for his niece when she adopts a puppy that grows up overnight.
Subscribe to the Backstage podcast on Apple podcasts, Google podcasts, Spotify, Streamer
Whitehall admits that there were certainly elements of his character that he could relate to.
"I think the probably irresponsible man-child isn't necessarily the biggest push for me in terms of character to play," he told Sky News's Backstage podcast.
"And yes, my babysitting skills are very rarely used.
"I now have a niece and I have never been asked to take care of her – everyone else in my family has and I haven't been called yet."
With sequels for both Clifford and Jungle Cruise in the works, Whitehall seems to be settling into the family movie genre.
He says it's probably because in the US he doesn't have the reputation he has in the UK.
"I just think in America they haven't seen everything I've done, so they think I'm a good fit for this stuff, whereas in England everyone has heard some jokes that I've told and watched some of my stand-up specials, and they're probably a little more reluctant to offer me a family fare.
"It seems like I fell into those kind of movies, and I love making them to be honest.
"It's so awesome to be able to make a movie and broadcast it to the world and do something where my friends can take their kids, or my godparents can go see it, because until at this point, he there is nothing I have ever done that they could have looked at. "
The Clifford shoot was a 'refreshing change of pace'
One of those inappropriate shows for children is Travels With My Father, which Whitehall directs with his father Michael Whitehall.
He joked that after filming this series, working on a children's movie with a CGI dog was a welcome change.
"I spent about four weeks on the road with an eighty-year-old volatile alcoholic who can only work five hours a day, and has to stop for lunch for an hour and have a bottle of wine and doesn't really want to. to be there, "he said.
"So going from that to working on set with a guy holding a tennis ball next to you, I mean, was actually a pretty refreshing change of pace for me.
"And the kids too, they were very professional most of the time; maybe around six in the morning when you're in the makeup truck and they play Justin Bieber full blast for an hour … that was maybe a little trying – I'm a Belieber but at 6am I think maybe I'm a bit of a Belatheist. "
While Whitehall says he's enjoying the Hollywood experience so far, he also admits he's not sure how long it's going to last.
"I'm very grateful to have the opportunity to do these things because, you know, I'm British, so I'm still sort of obsessed with a little bit of impostor syndrome and feeling like someone at any point 'One is going to come and slap me on the shoulder and tell me I have to get on a plane home and start telling inappropriate jokes in pubs to 30 people again. "
And while his film career doesn't leave him much stand-up time at the moment, the comedic doesn't rule out a return to the stage in the future.
"There's always an appeal to stand-up, and the reality of stand-up is you can just go anytime you want, and there's always going to be a stage somewhere that's ready to welcome you," he said. he declared.
"And I'm sure at some point I'll probably go do a gig again or try to write some new material, but I'm very happy right now to focus on acting and playing. trying to find the next exciting film project. "
Clifford The Big Red Dog is in theaters now across the UK – you hear our review in the latest episode of Backstage – Sky News' film and TV podcast.