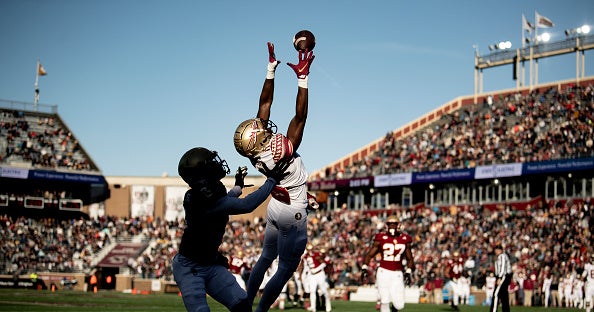 More progress for J-Trav, Front Porch is gaining momentum and … referee
FSU, after another strong punt from Alex Mastromanno, BC backed off and faced 3rd and 5.
It looks like the standard / Cover 4 pattern match shell, which FSU has performed to a remarkably high standard so far. BC anticipates it and gets its best WR – Zay Flowers – to cross the middle of the field because he expects a 1 on 1 cover. This creates a correspondence with Brendan Glove. Here's the catch: Gant is at Dime LB at this point in the game because Jammie robinson was ejected for targeting. So, based on PFF, your third best defender (77.4) is replaced by your worst defender (51.2) and BC attacks it. Glove isn't in a terrible position here, but the poor technique that has really limited talented security all season is manifested as he commits pass interference.

Would it be ideal for FSU not to have their worst defenseman against BC's best skill player? Absoutely. But FSU is also limited in personnel as injuries have hampered your defensive backfield (i.e. slot options like Meiko Dotson and Renardo Green). Hats off to British Columbia for finding something to work on here.
Later on the ride – extended by a face-to-face call on Robert cooper that wasn't clear on the replay – BC goes to Flowers again, making him work on the outside to counter the model match or man cover. Basically it broke free on a double blow and cutting under a tight end. It's a well-designed game, but that also comes from the fact that the front of the FSU gives Jurkovec too much time to throw. The Seminoles were very successful putting the pressure on with four, but the BC line is holding up better at this point in the game. The flowers make some amazing movements after capture, and BC is alive again.

FSU responds and places BC in 3rd and 15th after a penalty and two consecutive failures. The Seminoles remain in their Model / Cover 4 match concept, relying on the defensive line to put pressure. BC goes to an arrow pattern out of the backfield with an isolated running back on DJ Lundy in all kinds of spaces. The bet is you can get pressure with 4, and BC is able to get rid of the ball in just under 3 seconds. Again, good BC plan to isolate a pairing issue.
FSU, again, responds. Get BC in 3rd and goal. Good coverage here by second tier defenders to lock everything down, and great pressure from Johnson and Thomas to get to Jurkovec even while in custody.
A fumble is forced and recovered by the FSU, but the original decision is overturned. BC runs a power QB the next play to score the 4th and the goal.