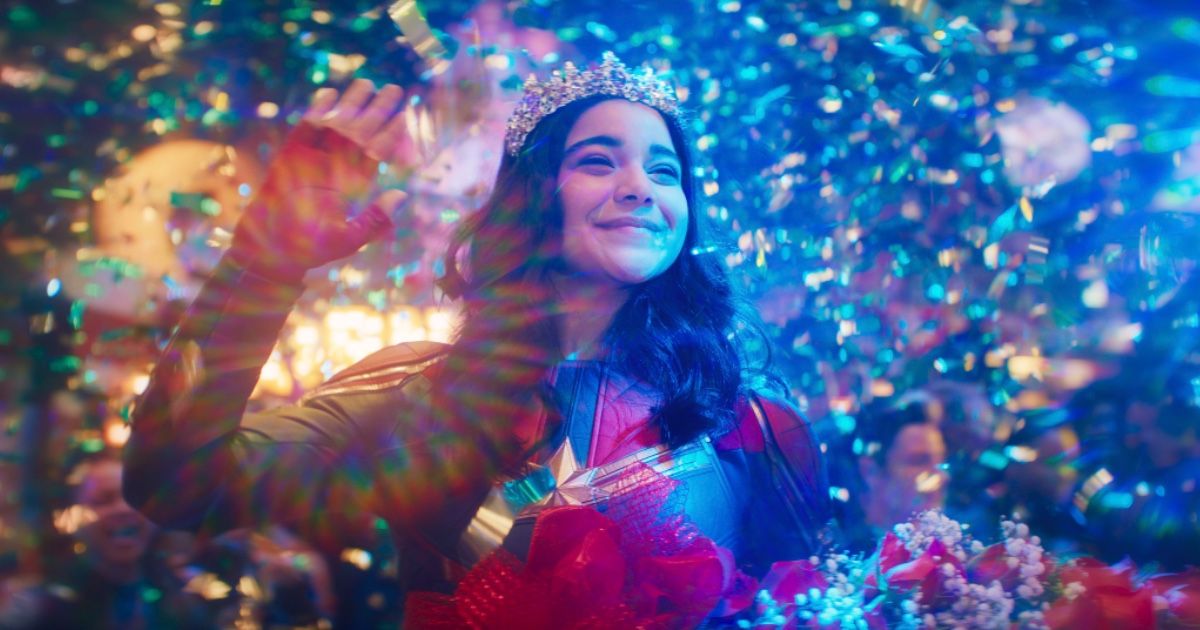 Ms. Marvel Month-Long Trailer Showcases Kamala Kahn's Superpowers
Ms. Marvel is coming to Disney+ in a month, and a brand new trailer teases a fun summer adventure of discovery with a new Marvel heroine.
Ms. Marvel will burst onto the MCU scene in just one month, and Marvel Studios has released a new trailer that shows off more of the titular heroine's cosmic superpowers. With Moon Knight having finished his story last week, and Doctor Strange in the Multiverse of Madness Blowing up the box office worldwide, attention is already turning to the next MCU story, which comes in the introduction of another new young superhero, Kamala Kahn.
Iman Vellani stars as Ms. Marvel, a Pakistani-American schoolgirl who comes into contact with a magical artifact that grants her spectacular cosmic powers. There's been a lot of talk surrounding these powers, as it's been noted that the series will make changes to how Kamala comes through her superhero status, which in the comics is tied to her Inhuman DNA. However, as shown in the new trailer, she is still able to use these powers to alter parts of her body, including making her giant fist like in her comic book appearances. Check out the new trailer below.
Although it's been hinted at in previous footage, the new trailer seems to make it clear that this will be an old-school origin story, with Kamala gaining her powers and having to come to terms with them. It's been a while since this kind of story has been told within the MCU, with many of their newly introduced heroes already having their powers established or at least having used them prior to their first screen appearance. While it can sometimes end in a slower series start compared to shows that just throw viewers into an immediate action storyline, it could also turn out to be the kind of respite the MCU needs.
Related: Ms. Marvel: Plot, Cast & Everything We Know
Ms. Marvel's origin story will lead her straight into wonderland.
There are many reasons for Ms. Marvel land in June on Disney+. It sits between the release of big movies featuring well-established characters in Doctor Strange in the Multiverse of Madness and Thor: Love and Thunderand while both films have their fair share of darkness and drama, Ms. Marvel is clearly billed as a fun summer series that's probably in the same vein as The ant Man or guardians of the galaxy in tone.
Ms. Marvel was originally slated to arrive later in the year, with She-Hulk potentially premiering, but thanks to the latter's heavy use of CGI through its various Hulk personas, Ms. Marvel would have been moved to give She-Hulk more time to finish visual effects work without having to rush. Recently, Disney also announced that next year Wonders and Ant-Man and the Wasp: Quantumania change places in the program.
That means it'll be over a year after the Ms. Marvel finale that we'll see Kamala Kahn again, this time on the big screen with Brie Larson's Captain Marvel, Teyonah Parris as Monica Rambeau, and Samuel L. Jackson as Nick Fury. With Nick Fury ready to take the helm of Disney+ Secret Invasion series, which was originally slated for release this year, this series could have as much of an impact on Wonders as Ms. Marvel and could partly explain the delay of the film.
Spoiler: Is Bruce Campbell in Doctor Strange in the Multiverse of Madness?
Read more
About the Author