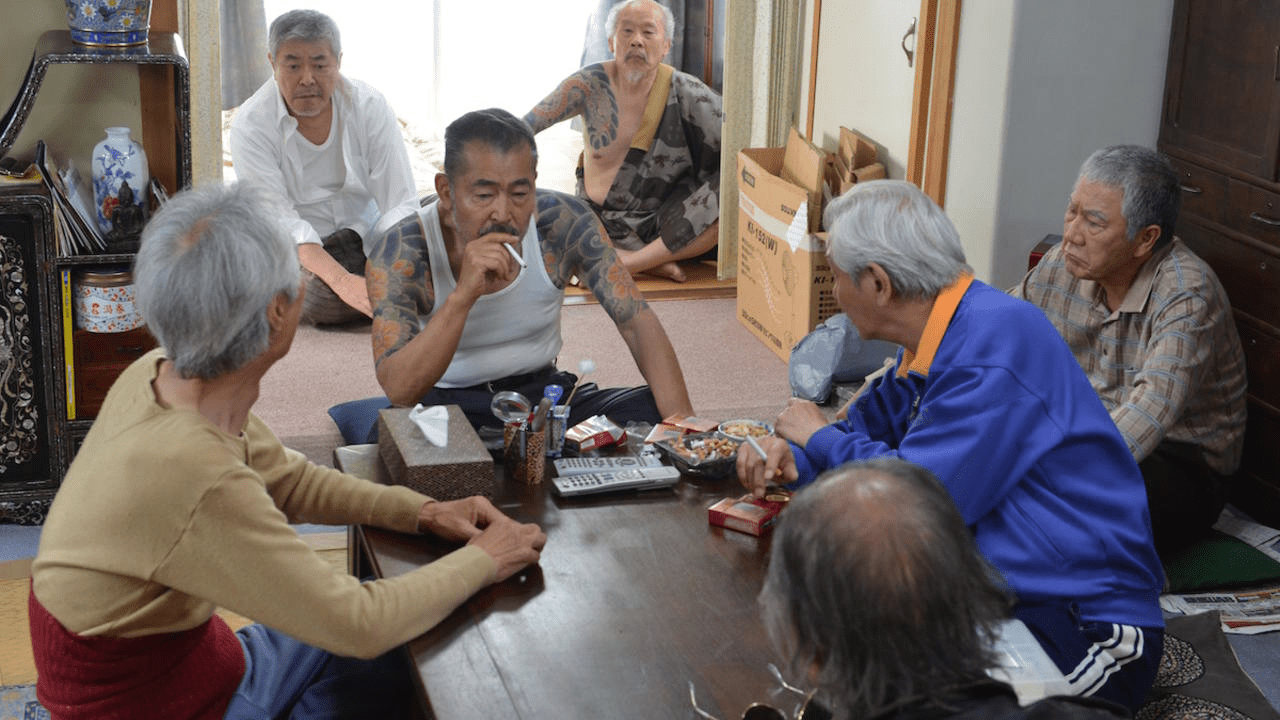 Ryuzo and the Seven Henchmen (2015) by Takeshi Kitano
"The Yakuza is like baseball. It's fun to play but very sad when you stop"
Over the past decade, there's been a blossoming of films in which aging heroes demonstrate that there's more to life after retirement than bocce and bingo. Franchises like "Red" and "The Expendables" satisfy the collective desire to stay active and fit and never age, and are also a vehicle for retraining old and beloved stars. But Kitano's old villains from his "Ryuzo and the Seven Henchmen" are more "lovable losers" than their heroic Hollywood counterparts.
To buy

This

Title
on Amazon
Ryuzo (Tatsuya Fuji, former glory of Japanese cinema, protagonist among many others, of "In the Realm of the Senses", "Empire of Passion" and "Bright Future") is an unaffected grandfather, with a tumultuous past. like a member of a Yakuza "family" who is not yet ready to keep calm and sit in an armchair. When he's not terrorizing the neighborhood kids and insulting his stepdaughter, Ryuzo spends his time wearing a "wife beater" vest showing off his gang tattoos for all to see and working out. with the bokken (the wooden katana) under the annoyed eyes. eyes of his son, an ordinary and honest employee, who is very ashamed of his paternal past of violence. Left to his own devices to take care of the house for a week, Ryuzo is the target of small-time crooks who attempt to extort money from him by posing as his son's co-workers (a common scam targeting seniors). . It all ends comically and without consequences, however, the episode gives Ryuzo and his former lieutenant and friend Masa (Masaomi Kondo) a chance to reflect on the clumsy modern-day underworld that acts brainless and, above all, without a code of honor, so essential for the old school yakuza.
Therefore, they decide to put their gang back together, driving old friends out of hospitals and nursing homes. Like the good old days when they were boys, they all move in and camp out at Masa's apartment together and start teasing new generations of gangsters with hilarious consequences. Each of Ryuzo's henchmen has a nickname of the specialty in which they excel (or excelled, should I say). There's Cane Man, 6-Inch Nail, Razor Slasher (but don't ask him to shave), Kamikaze, Mac (Steve McQueen's) the only one who owns a gun that wields with shaky hands, and there's even has Toilet Assassin. Takeshi Kitano himself briefly appears a few times in a cameo as a policeman – amusingly reminiscent of Lieutenant Columbo – who occasionally closes his eyes, having also played cops and robbers with them in the glorious past.
After the dismal "Outrage" and "Outrage Beyond", Takeshi Kitano returns on a lighter tone with "Ryuzo and the Seven Henchmen", a film imbued with down-to-earth humor that pays affectionate homage to the old era of gangster movies, when honor and dedication were more important than greed and the internet. The film uses typical classic comedy gags, like the lover locked in the bathroom, grotesque disguises, a bit of slapstick, a bit of toilet humor, etc., and it's heavily nostalgic for a old "pure" Yakuza. As indisputable as the concept of a "good Yakuza" may be, it fondly remembers and honors old gangster movies by showing that they had more human stories and were less dominated by technology and special effects. As a feast for the eyes, the glorious past deeds that earned the gang members their nicknames are illustrated through a series of very enjoyable flashbacks, shot in black and white mimicking old Japanese Yakuza films.
I had a big urge to like it and had fun watching it, but in all honesty, it's a little underwhelming. "Ryuzo and the Seven Henchmen" is a series of amusing vignettes that are too loosely intertwined to create a finished film, as if, unfortunately, the parts are better than the whole. Come to think of it, it would work well as a TV series, the kind with short 20-minute episodes; as a movie, however, it kind of hangs in the air and ultimately leaves a sense of incompleteness. A few brownie points, however, are earned for the cheerful spirit of the gags and, above all, for the protagonists, whom you can only love.
As Ryuzo puts it in a bold comparison: "The Yakuza is like baseball. It's fun to play but very sad when you stop". Maybe Kitano was trying to tell us he was afraid to retire.