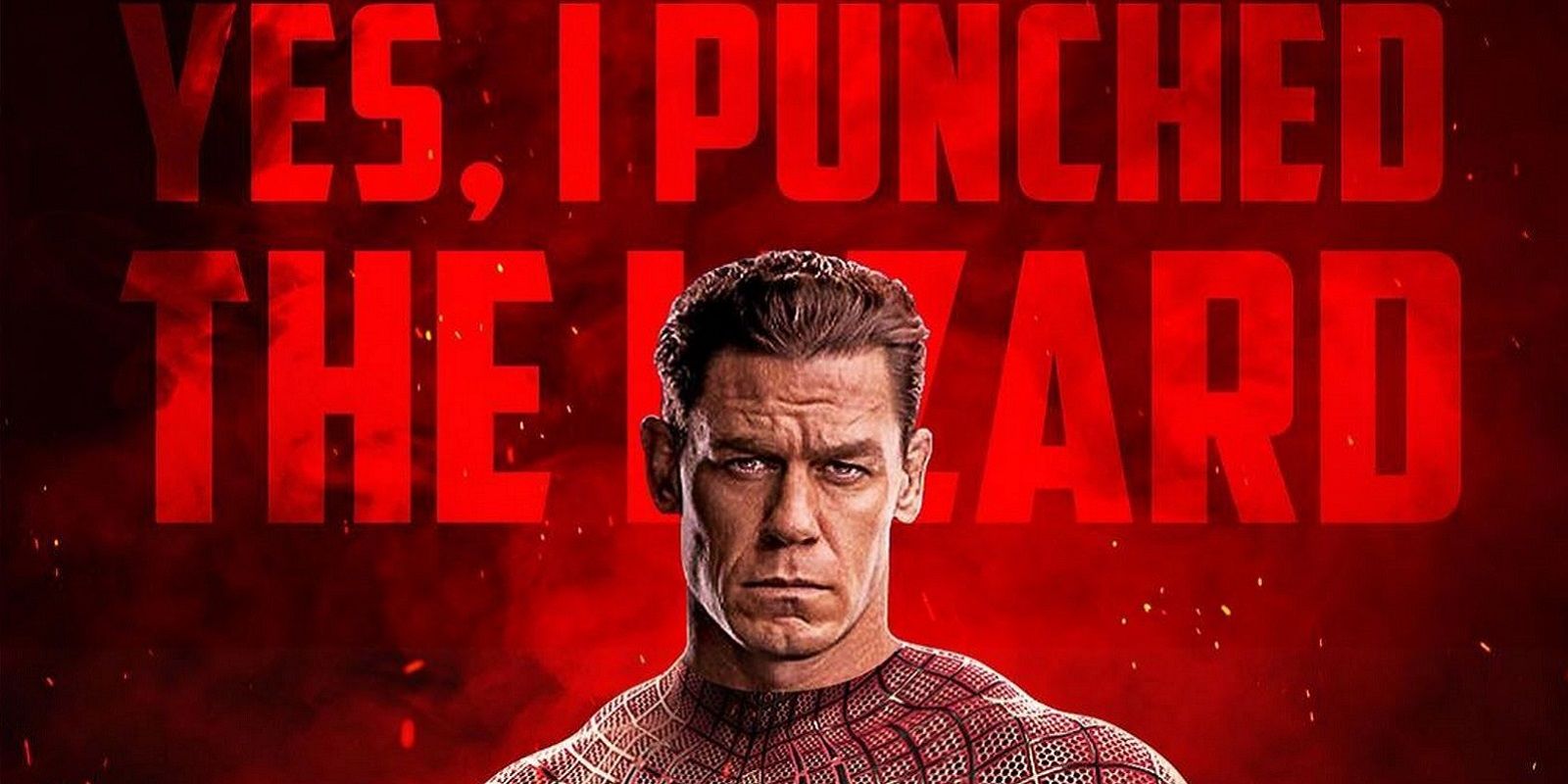 Spider-Man Fan Art Meets No Way Home Trailer Glitch starring John Cena
Fan art portrays John Cena as Spider-Man and Venom, both claiming that they hit the lizard while they were invisible in the trailer for Spider-Man: No Way Home.
Fan art has identified the invisible assailant who hit the lizard in the Spider-Man: No Path Home trailer and his name is John Cena.
Marvel and Sony recently unveiled the second trailer for Spider-Man: No Path Home and one particular shot had fans speculating that a Spider-Man or two could have been deleted. The shot in question showed Tom Holland's Spider-Man battling Electro, Sandman, and The Lizard. While the moment seemed low-key at first glance, one key detail caught the public's attention. In the Brazilian version of the new trailer, the shot is extended and the Lizard can be seen taking a hit from an unseen attacker. While most viewers assumed the missing fighter was a former Spider-Man, new fan art posted to Instagram by Samuel Cheve postulates that the culprit was in fact Cena, a WWE actor and star famous in internet memes for his "You Can't See Me" taunt.
Related: Spider-Man: No Way Home's Tom Holland Wants To Be The Next James Bond
Fan art first portrayed Cena as Spider-Man, the actor wearing the traditional red and blue color scheme of Peter Parker's costume. Spider-Cena poses with the caption "Yes, I hit the lizard", but is countered with "No, we hit the lizard", by another version of Cena wearing the Eddie Brock / Venom symbiont infested costume .
Fans initially suspected that a digital hoax was brewing in the Spider-Man: No Path Home marketing when they noticed some oddly wide shots in the second trailer for the film. But when the Brazilian trailer's Lizard punch was identified, the clip immediately went viral. Like Cheve, artist BossLogic responded with a fan montage, adding an invisible Miles Morales to the scene to explain the mysterious move.
Related: Spider-Man: No Way Home Trailer May Tease A Secret Villain… But It's Weird
The speculations surrounding No way homeThe trailers for were fueled in part by the numerous reports and rumors that the film would see Tobey Maguire and Andrew Garfield reprise their roles as their respective versions of Peter Parker / Spider-Man. Garfield has repeatedly denied his involvement in the film, but recently disclosed No way home the set photos and costume descriptions seemed to suggest otherwise. Some have also speculated that No way home could feature Venom to some extent, in part thanks to a viral photo from Venom star Tom Hardy wearing a No way home baseball cap, but Sony producer Amy Pascal scoffed at the rumors.
Whether or not No way home will feature other Spider-Men, Venom or Cena, the second trailer confirmed that the third Spider Man The film will star returning villains Sandman and The Lizard, characters who made their first appearances in Spider-Man 3 and The Amazing Spider-Man, respectively. No way home will also see the return of other classics Spider Man villains including Dr Otto Octavius ​​/ Doctor Octopus by Alfred Molina from Spider-man 2, Willem Dafoe as Norman Osborn / Green Goblin from Spider Man and Jamie Foxx as Max Dillon / Electro.
To see who actually hit the lizard, watch Spider-Man: No Path Home when it hits theaters on December 17th.
Read On: Watch Tom Holland Finally Say Spider-Man's Most Iconic Line
Source: Instagram
From Halo to Spider-Man: No Way Home, here are the best trailers of the week
About the Author