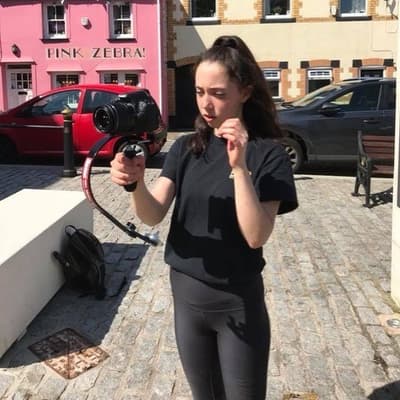 The young filmmaker from Crickhowell will walk the red carpet
An impressive young filmmaker from Crickhowell is set to hit the red carpet in London's West End next week as the Into Film Awards return.
Eden Quine-Taylor, 17, will attend a star-studded ceremony as a nominee at ODEON Luxe Leicester Square on June 28.
Hosted by comedienne Sue Perkins and organized by the film education charity, Into Film, it engages with more than half of UK schools and includes Rhys Ifans, Matthew Rhys, Eddie Redmayne, Kenneth Branagh, Jack Lowden and Naomie Harris among its ambassadors.
Eden will be named one of three 'Those To Watch' – an award developed in partnership with the BFI Film Academy to recognize three young phenomenal people who have already impressed in the film world. Eden is a former Into Film Award winner for her 2020 film 'I'm the One' and is set to study film production at Bournemouth University of the Arts. Each of the three youngsters will receive industry mentorship and the chance to win a £1,000 cash prize to help support their filmmaking journey.
Eden said: "'Ones to Watch' is a particularly special nomination: the possibility that the Into Film jury saw the potential of my cinema for the future is such an inspiring prospect. I've always been that kid on the playground who'd rather recite every scene from Harry Potter than play a tag game.
"From an early age, I discovered that film gave me the ability to construct any narrative that excited me at the time, which was an eye-opening and exciting concept.
"I hope to see myself in the future with a film production company and create feature films that all audiences can resonate with."
Jemma Evans from Bridgend is nominated for the prestigious Teacher of the Year award – joining Eden as another Welsh nominee.
The Into Film Awards honor the incredible Into Film Clubs, inspiring educators and talented young critics, as well as a host of outstanding films submitted in six categories of film achievement. This year's films cover a wide range of themes and topics, including the impact of lockdown on mental health, the intersection of race and beauty standards in the UK, Ukrainian cultural identity, change climate change and environmental protection, dealing with OCD, tackling bullying, the importance of kindness and the anniversary of the introduction of inclusive education in Northern Ireland.