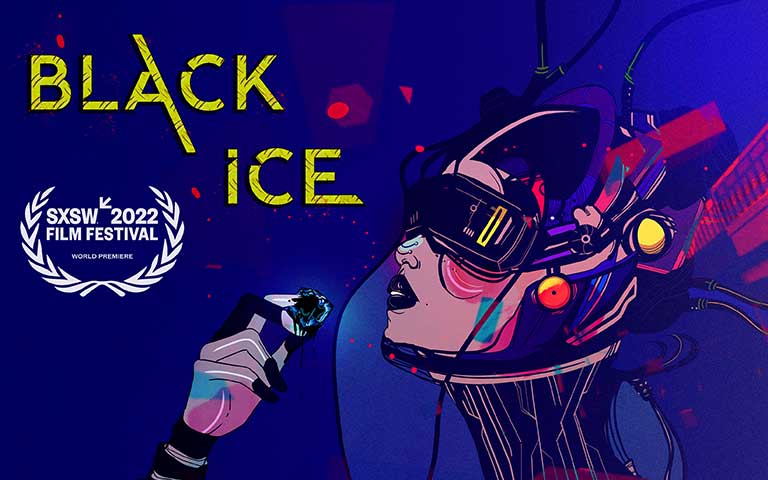 VR Film "Black Ice" Selected for Screening at South by Southwest Film Festival
"Black Ice," an interactive virtual reality (VR) short created at UNCSA's School of Film, has been selected to screen at the South by Southwest Film Festival (SXSW), March 13-15.
The project, created by writer/producer Arif Khan, extended reality (XR) developer Lawrence Yip and programmer/technical artist Darren Woodland Jr., was developed during the Immersive Storytelling residency at the Media and Emerging Technology Lab (METL) from UNCSA.
"Black Ice" will be presented as part of XR Experience at SXSW, an exhibition that showcases exceptional immersive projects by an array of talented international producers. It was selected as one of 29 films from hundreds of applicants, and is the first film created at UNCSA to be accepted for screening at SXSW. Information on 2022 screenings and a full festival schedule can be found at sxsw.com.
"The School of Film is very proud of the artists who created 'Black Ice' and the creativity that captured the attention of this important festival," said Deborah LaVine, Dean of the School of Film. "The work of Arif, Lawrence, and Darren is a wonderful representation of the bold, daring filmmaking possible in the interactive space, and the sustained and cultivated innovative work at UNCSA."
"The crew and I are thrilled to have the world premiere of 'Black Ice' at SXSW, one of the world's premier film festivals," Khan said. "This project would not have been possible without the generous support of UNCSA and METL. The Immersive Storytelling Residency provided us with the time and resources to experiment with emerging technologies to create a truly unique cyberpunk thriller about publishing. memories, and we are extremely grateful for this opportunity.
"Black Ice" is set in the cyberpunk future, as a young woman visits a memory editor to erase the dark memory of a murder she committed. However, the more the editor modifies the memory, the more it finds itself wanting to kill again. "Black Ice" is a single-player cinematic VR experience that explores the dangerous power of memories and how they make up who we are, for better or for worse.
Khan added, "What's special about SXSW this year is that in addition to the in-person event in Austin, the festival will also feature a virtual XR program, which will be accessible to online attendees everywhere. As a result, we look forward to unveiling 'Black Ice' to the world next month."
The Immersive Storytelling Residency brings together screenwriters, game developers and technical 3D artists, giving them access to advanced technologies and mentorship from award-winning faculty and industry leaders to create fully realized VR experiences – forming a new paradigm for art and storytelling in the 21st century. "VR filmmaking continues to push the boundaries of traditional cinematic storytelling," said METL Director Ryan Schmaltz. "I am thrilled with the quality, creativity and passion that emerged from this year's residency, and that SXSW recognized 'Black Ice' in particular."
Mentors for this year's Immersive Storytelling Residency included nationally acclaimed podcaster Kent Bye of Voices of VR; filmmaker Navid Khonsari, founder of iNK Stories, a digital storytelling studio in New York; Joy Goodwin and Bob Keen, accomplished UNCSA faculty members; and Danny Oakley, animation director at Out of Our Minds Studios in Winston-Salem, among others.
About the creators
Arif Khan is a VR writer/producer/director working in the film and tech industries, including at SXSW, Airbnb, and Oculus; he holds a Master of Fine Arts in Film Production from the University of Southern California – School of Cinematic Arts, and a Master of Arts in Creative Writing from the University of Cambridge. Darren Woodland Jr. is a multimedia designer and 3D generalist specializing in interactive media, immersive technology, sound design and narrative storytelling. He holds a Masters in Art and Design from North Carolina State University where he was a research assistant for the IntelliMedia (Center for Educational Informatics) group working on digital modeling, animation, and game design. Lawrence Yip is an XR developer who has worked as a developer and designer at the University of British Columbia's Department of Medicine and Stony Brook University; he holds a Bachelor of Science in Information Systems from Stony Brook University and a certificate from the Vancouver Film School in AR/VR design and development.

About UNCSA Film School
Consistently recognized as one of the top training programs for filmmakers in the nation, the School of Filmmaking at the University of North Carolina School of the Arts has produced some of today's most creative storytellers, including Danny McBride, David Gordon Green, Zach Seivers, Craig Zobel, Brett Haley, Rebecca Green, Jody Hill, Jeff Nichols, Vera Herbert, Martha Stephens, Aaron Katz and Zoë White.
The School of Film's award-winning faculty have decades of real-world experience and a passion for mentoring undergraduate and graduate students in concentrations that include animation, cinematography, directing, film music composition, image editing and sound design, production, production design and visual effects, and screenwriting. UNCSA co-organizes the RiverRun International Film Festival in Winston-Salem and is a partner of the Sundance Institute. The film school is dedicated to exploring and producing immersive storytelling content through state-of-the-art facilities and partnerships providing students with the latest programs such as motion capture technology and game production in time. real.
Contact Media Relations
Get the best news, performances, and stories from UNCSA alumni.
SUBSCRIBE TO OUR NEWSLETTER